Homemade Fruit Sorbet Recipe

I wanted to connect with you and show you a new fruit sorbet recipe. My family enjoyed this fizzy sorbet drink with their bun-less hamburgers and sweet potato fries. It is similar to a drink I grew up with at parties and special events. The original recipe calls for sorbet added to 7-Up or Ginger Ale. Talk about sugar overload!

At this moment, my family is fighting off germs and viruses. We do not need that much sugar in one serving. So I changed up my family's traditional recipe and made one with a lot less sugar. But it still bursts with flavor and sweetness. Below is the fizzy sorbet recipe just in case you wanted to try something a little different and healthy with your family and friends.

I chose to use a mixture of unsweetened Klarbrunn Lemon soda and Zevia Ginger Ale. I loved that the soda was clear so that you can see the beautiful colors of the sorbet through the glass. This fruit sorbet recipe made enough for my family of 5 to have 2 small-sized glasses each.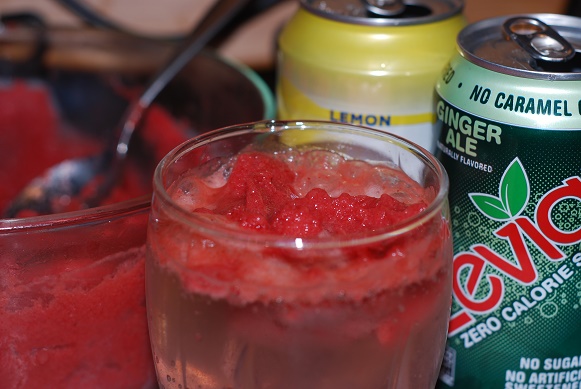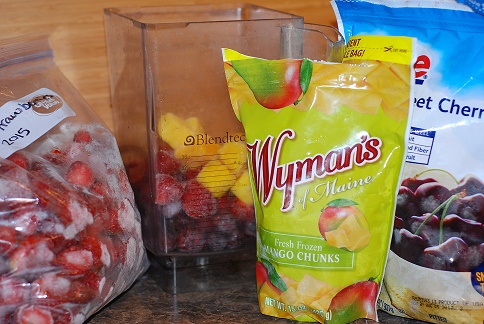 Fizzy Fruit Sorbet Recipe

1 1/2 cup strawberries, frozen
1 cup sweet dark cherries, frozen
1 cup mango, frozen
1 tablespoon beef gelatin, optional*
1/2 cup cold water
1/2 cup hot water
Stevia or honey to taste**
4 cans of Unsweetened Klarbrunn Lemon Soda or Zevia Ginger Ale***


Add the frozen ingredients in the blender. In a separate bowl, slowly whisk the cold water while pouring the gelatin. Then slowly stir in the hot water into the gelatin mixture. Pour both the gelatin mixture and the sweetener of choice into the blender. Blend all together until smooth.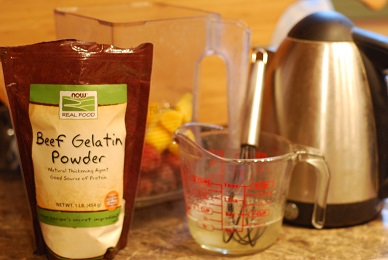 Pour the fruit puree into a freezer-safe container and carefully place it the freezer. I left the lid off of mine initially so that it would freeze quickly. Every 30-45 minutes stir up the hardening homemade sorbet.

Once you are ready to serve, pour your chilled soda of choice in your glass and scoop your mouth-watering DIY sorbet gently into the glass. Of course, you may need to let the sorbet soften for a couple minutes.

Makes 10 medium servings

*Please don't let the gelatin process confuse you. You do not need it. The gelatin creates a smoother consistency. It is by no means a requirement in the recipe.
**You will want to make this "sorbet" sweeter than normal in order to help sweeten the unsweetened flavored soda.

***I wasn't sure to write soda or pop or coke. I have lived in many places over the country. And people can be very particular on their choice of words. I generally stick with "soda."
Want even more smoothie ideas?
Check out my book "Smoothie Handbook for Health" for over 130 smoothie recipes. You won't get bored with all of the options available!
Become Radiant One Smoothie at a Time!
Happy Blending!
DaNae Johnson
Want 135 energizing smoothie recipes all bundled into a convenient handbook? Check out my ebook, Smoothie Handbook for Health.
The contents of this website are based upon the opinions of DaNae Johnson. The contents are not meant to diagnose, treat, cure or prevent any disease. This website is for sharing knowledge and information from the research and experience of DaNae and should not be used as medical advice. DaNae encourages you to make your own health and nutrition decisions based upon your research and discussion with your own qualified professionals.
© 2007 - 2022 DaNae Johnson, All Rights Reserved.
About me | Contact Me | Privacy Policy