Amazing Grape Smoothie Recipes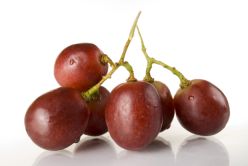 Easily add some antioxidants into your smoothie routine with a grape smoothie.
Grapes are packed with flavonoids, a phytonutrient. The flavonoids are what make the skin of the grapes darker in color. Two studied flavonoids are quercetin and resveratrol. Both of these compounds in grapes have shown that they may decrease the risk of heart disease.
Wine also contains these big health benefits. The darker the wine in color the more concentrated the flavonoids.
But we don't have to drink wine to receive the benefits. We can go directly to the fresh source from where wine came from. GRAPES! And smoothies are a great way to get those nutrients into our bodies.
Smoothie Tips for Grapes
#1 - Grapes are extremely sweet. So you don't need to add a bunch of sweetener to your smoothie. Believe me. I added sweetener to my first smoothie with grapes and I hardly could drink it down!
#2 – Grapes contain a lot of juice. Cut back on the liquid in order to have flavor packed healthy smoothie recipes!
So be creative and have fun with your grapes!
Grape Smoothie Recipes
Grape-Berry Smoothie
1 cup grapes
3/4 cup blueberries, frozen
1/8 tsp stevia
2 tablespoons coconut milk powder (or use 1/3 cup coconut milk and omit the water)
1/4 cup water
3 ice cubes
Place all of the fresh ingredients closest to the blade with the frozen ingredients on top. Blend until smooth. Serves 1
Grape Mango Smoothie
1 cup grapes
1/2 banana, frozen
1/2 cup mango, frozen
3 ice cubes
1/4 teaspoon stevia
1/4 water
Place all of the fresh ingredients closest to the blade with the frozen ingredients on top. Blend until smooth. Serves 1
Tropical-Grape Smoothie
3/4 cup grapes
1 orange
1 cup pineapple, frozen
5 ice cubes
1/4 teaspoon stevia
1/2 water
Place all of the fresh ingredients closest to the blade with the frozen ingredients on top. Blend on low for 10-15 seconds. Then blend on high until smooth. Serves 1-2
Go from Grape Smoothie to Smoothie Recipes
Go from Grape Smoothie to Fruit Smoothie Recipes