Savor a Raspberry Smoothie
and
Give Your Day a Little Zest!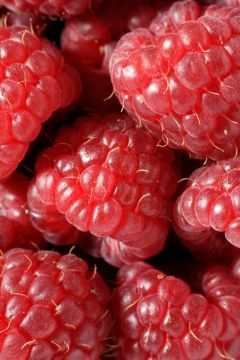 A raspberry smoothie can be made delicious in so many ways. Add some of these juicy berries to complement other fruits to give it a little zest. They characterize a smoothie like no other fruit can.
If you are using frozen raspberries, make sure that you use some sweetener with your smoothie, such as stevia or honey. Frozen raspberries tend to be quite tart. So raspberries blend well with many fruits, such as in blueberry smoothies, strawberry smoothies, peach smoothies, orange smoothies, and banana smoothies. The sky is the limit!
Just take a look and see how many varieties you can make!
Found a yummy smoothie combination? Show it off!
Smoothie Tip
If you do not like the raspberry seeds in your smoothie, try blending the liquid ingredients with the raspberries before adding the other frozen fruit and ice.
This should help break down those seeds a little bit more.
If you want to completely pulverize those seeds, consider using either a Blendtec or Vitamix blender. These are the best blenders on the market.
Raspberry Smoothie Recipes
Zesty Berry Smoothie
1 large ripe banana, peeled and sliced
3/4 cup strawberries, frozen
1/2 cup raspberries, frozen
1 packet of vanilla stevia
1 tsp of lemon/lime juice
1 cup of pure water
First, pour water and juice into the blender. Second, place the banana on the bottom with the rest of the ingredients on top. Blend on low for 10-20 seconds. Then increase the speed to medium/high until creamy smooth. Serves 1-2

Raspberry Sunrise
2/3 cup strawberries, frozen
1/3 cup raspberries, frozen
1 banana, peeled and chopped
1 orange, peeled and seeded
1 packet vanilla stevia
1 1/3 cup of pure water
5 ice cubes
First, pour the water into the blender and add the stevia, orange, and banana. Second, put berries and ice on top. Blend until desired consistency is achieved. Serves 1-2
Raspberry Yogurt Smoothie
1 cup raspberries, frozen
2/3 cup yogurt, plain and lowfat
1/4 cup water
1 teaspoon stevia
1/2 teaspoon vanilla extract
5 ice cubes
Add the raspberries, yogurt, water, stevia, and vanilla into the blender. Blend until smooth. Add the ice and blend again. Serves 1
Want to Share YOUR Healthy
Smoothie Recipes or Tips?
Did you blend up a yummy healthy smoothie? Or maybe you have some terrific smoothie tips to share? Let's hear them!

Please, only post smoothie recipes with wholesome ingredients. If there is an ingredient in question, I will add a healthier option to the recipe.