Strawberry Nutrition that will Rev Up Your Energy Levels Through the Roof!
Consider how powerful strawberry nutrition can be. Strawberries are a tasty and easy addition to fruit smoothie recipes. A handful of heart shaped, red strawberries will add an incredible amount of flavor and health to your blended treats.
You don't have to be a rocket scientist to understand that the benefits of strawberries far surpass their small size. Today, it is estimated that about 95% of the US population enjoys this dynamic and nutrition packed fruit. Some of the popularity is due to the ready availability of strawberries The delicious taste and versatility makes this food a winner in every category.
The energy boost from these small berries is pure and natural. It's also good to know that strawberry nutrition remains intact whether you eat these fresh, frozen or dried. The late spring and early summer are the peak seasons for this fruit, but you can generally find them available throughout the year.
Benefits of Strawberries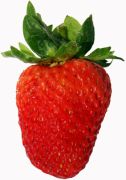 The strawberry is a heart friendly food and it even demonstrates this in its appearance. Not many foods look like a little red heart at the first glance. If you want to add a smoothie ingredients that can help you lower your LDL, raise your HDL, and help you keep your blood pressure within normal limits then you need to use strawberries.
Strawberry nutrition experts rave about this small fruit because it contains vitamins, fiber and tons of polyphenols. The polyphenols are special antioxidants that can help repair cellular damages that have occurred because of free radicals.
These berries make the list of the top 25 fruits when judged on antioxidant levels. Eating strawberries will help your body battle diseases as well as the aging processes. Benefits of strawberries in your diet include clearer skin, an invigorated immune system, and a healthier circulatory system.
When it comes to diet friendly foods the facts about strawberry nutrition make it a popular choice. These berries contain no fat, no cholesterol, no sodium, and very few calories.
There are only about 50 calories in a cup of strawberries. This makes them perfect for almost any type of diet including those for diabetics. You can toss in 1-2 handfuls of this fruit when making fruit smoothie recipes and not worry about counting calories. Enjoy the tasty, tangy goodness of this naturally sweet fruit and make a toast to good health.
The benefits of strawberries include a number of other healthy attributes. These small berries contain rich sources of Vitamin C. If you eat about 6-8 strawberries you are providing your body with more Vitamin C than contained in a whole orange. There is fiber in the fruit which helps keep you regular.
Strawberries also have long been valued for their "aphrodisiac" effect. If you want to make a romantic smoothie then these berries are your only logical choice.
How to Buy and Store Strawberries
Always select firm, red berries because this fruit is not going to ripen once it is removed from the vine. Strawberries do not have a long shelf life. Once they are picked they need to be kept cool.
If you are not planning to use the berries in the next couple of days, consider freezing them for later use. You can get the same great strawberry nutrition benefits when you add the frozen fruit to your smoothie. Just remember that you should not wash the strawberries until you are ready to use them to protect the thin skin.
To save room in your freezer you can crush or blend the fruit before freezing. Some people will even pour the crushed berries into ice cube trays and then add these handy cubes to a smoothie recipe. If you freeze them you should not add any liquid because there is already plenty of juice in the berries.
During the summer, I pick 60 plus pounds of strawberries and freeze them. Since I toss them into smoothies, I usually freeze them whole, leaves and all. Especially, if I am already making a green smoothie.
The ultimate best way to get your strawberry nutrition is from the berries right off the plant. If you want to eat your own homegrown strawberries, try growing your own strawberries!
To save money, buy bulk pre-frozen strawberries. Use them instead of ice cubes. That will give your fruit smoothie more flavor and more health promoting health benefits.
Through hundreds of years strawberries have been prized for their medicinal purposes and ability to be used in many herbal treatments. The fact that they contain plenty of fiber, Folate, antioxidants and potassium means that strawberry nutrition offers help for a variety of health conditions. In addition to decreasing your chances for developing high blood pressure or heart disease the benefits of strawberries have been linked to protection from certain forms of cancer.
Go ahead... Now you can enjoy your strawberry smoothie recipe with the knowledge of that you are taking care of your body.
Go from Strawberry Nutrition to Smoothie Recipes
Go from Strawberry Nutrition to Fruit Nutrition