Dessert Smoothie Recipes for Weight Loss
Healthy dessert smoothie recipes for weight loss...
Can it be so?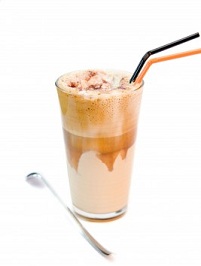 I don't know about you... but creamy sweets are my weakness. Unfortunately, they are usually stuffed with sugar, cream, chemicals, and preservatives. The worst part is that I usually can't stop snacking until it's gone.
In my quest for health, I didn't want to completely eliminate treating myself... I kept searching for healthier versions of those creamy treats I craved. That's when I started blending up nuts, coconut, dates, etc.
These smoothies were the answer!
Are they as healthy as a green smoothie or fruit smoothie? Looking at the nutrient density... no. But if you avoid other harmful junk foods because you have a healthier alternative, it is a BIG step forward.
Three Secrets for Delicious Creamy Smoothies for Weight Loss
1. Blend and Blend Again!
Make sure that all of the ingredients are blended smooth before adding ice or other frozen ingredients. Otherwise you may have a gritty texture instead of a creamy smoothie.
2. Sweeten with Stevia and Dates
A combination of stevia and dates sweetens and thickens a smoothie to perfection. In the past, I've used all dates... but I realized there were way too many calories with so many dates. Then I tried sweetening with just stevia. Stevia powder does not bulk up the smoothie like the dates do.
After hundreds of different smoothies... I've come up with a solution. Use both! You get the thickening and the sweetness from less dates and a little bit of stevia. FABULOUS!
Note: If your dates are firm, soak them in the liquid for about an hour before blending.
3. Bulk It Up with Psyllium Husk Powder
Out of all of the healthy smoothie ingredients that I've tried for a dessert smoothie recipes for weight loss, I think this one is at the top. You must be careful not to add too much. More is NOT better! Psyllium powder soaks up a lot of liquid and can gel up. I even use it to thicken up homemade ice cream and other desserts. Find out how
psyllium fiber can help you lose weight
.
For an average 2-3 cup smoothie use about 1/2 tablespoon psyllium husk powder. Don't have any psyllium in your pantry? Buy it at
mountainroseherbs.com
at a low price.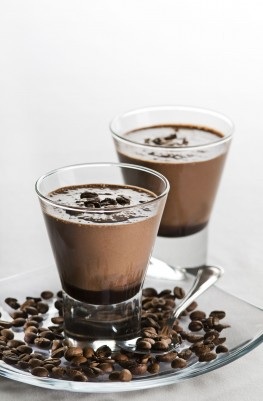 Healthy Chocolate Shake
10 dates, pitted
2 cups water or alternative milk or coffee
1/2 teaspoon stevia powder
1 tablespoon cacao or cocoa
1/2 tablespoon psyllium husk powder
12-16 ice cubes
Blend the first 6 ingredients first until smooth. Add the ice and blend again. Makes 2 servings
Calories: 214 | Total Fat: 8.3g | Fiber: 10g | Protein: 4.9g | Weight Watcher: 4 points
Vanilla Creme Frappuccino
7 dates, pitted
1/2 tablespoon psyllium husk powder
1 teaspoon vanilla
1/2 teaspoon stevia powder
1 cup coffee, chilled
10-14 ice cubes*
Blend the nuts, dates, psyllium, vanilla, steva, coffee together. Once smooth... add the ice and blend. Enjoy! Makes 2 servings
Calories: 209 | Total Fat: 12.8g | Fiber: 7.8g | Protein: 2.2g | Weight Watcher: 4 points
*If you like extra strength coffee, freeze your extra coffee in ice cube trays. Then use in place of your regular ice cubes.
I hope that these tips and smoothie recipes for weight loss will satisfy your cravings while trimming down your waistline.
Happy Blending!
DaNae