Yummy Apple Smoothie Recipes!
Tasty apple smoothie recipes that will keep you coming back for more. Get all of the benefits of apples that will supercharge your day!
These smoothies are a great way to start your morning. They are full of fiber and flavor. This makes them tasty and filling. A great combination!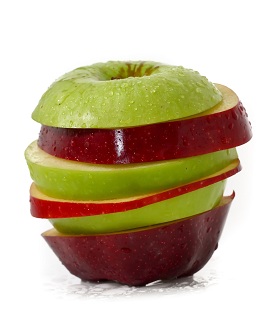 Smoothie Tips
Smoothies made with apples are best when consumed right after blending. You see... The fiber in the apples thickens up the smoothie.
If you let your smoothie sit for a period of time, it will have a different texture. Depending on the other fruit in the smoothie... most likely you'll have a smoothie with the texture similar to apple sauce.
If this happens, just blend the smoothie again. You may want to blend a couple of ice cubes into the old smoothie to freshen it up.
If you need to freshen up the smoothie on the go, you can use a container with a lid to shake it up. Keep it as cold as possible.
Don't let the fiber stop you from blending up these delicious smoothies. Try them for yourself!
Apple Smoothie Recipes
Apple Raspberry Smoothie
1 banana
2 apples, core removed
1/2 cup grapes
1/2 cup raspberries
1 teaspoon stevia
1/2 cup water
6 ice cubes
Add the banana, apples, grapes, raspberries, stevia, water and ice into the blender in that order. Blend on low for 15 seconds. Then blend on high until smooth. Enjoy! Serves 1-2
Apple Orange Smoothie
1 apple, core removed
1 orange, peeled and seeded
1/2 cup grapes
1 teaspoon stevia
10 ice cubes
Add the apple, orange, grapes, stevia, and ice in the blender in that order. Blend on low for 15 seconds. Then blend on high until smooth. Serves 1-2
Go back to Smoothie Recipes
Go from Apple Smoothie to Fruit Smoothie Recipes
Want 135 energizing smoothie recipes all bundled into a convenient handbook? Check out my ebook, Smoothie Handbook for Health.
The contents of this website are based upon the opinions of DaNae Johnson. The contents are not meant to diagnose, treat, cure or prevent any disease. This website is for sharing knowledge and information from the research and experience of DaNae and should not be used as medical advice. DaNae encourages you to make your own health and nutrition decisions based upon your research and discussion with your own qualified professionals.
© 2007 - 2022 DaNae Johnson, All Rights Reserved.
About me | Contact Me | Privacy Policy