Fruit Smoothie Recipes that Energize!
Use these fruit smoothie recipes at home to give your body the fruit nutrition that it needs. Don't pay those high prices for smoothies that you can make at home!
You may go into a restaurant and order a Strawberry Freeze thinking that you are doing the best for your body. (And of course for your taste buds!)
Believe me, not every drink is equal. Many places add sugar, high fructose corn syrup (HFCS), food coloring, MSG, and other dangerous hidden additives to your food.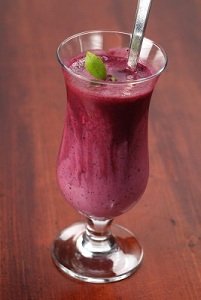 I worked at a juice bar where the owner wanted the best for her customers. There were still corners that had to be cut just to stay in business. I don't want to even think how a juice bar operates where all that the owner cares about is the profits.
You can use your own blender at home, your own high-quality ingredients, and the superfood nutrients of your choice. Don't have a blender? Take a look at the best blender in the market!
You can get more nutrients in one smoothie than most people get in a whole day! And instead of hoping that there isn't any harmful chemicals blended into your smoothie, you know exactly what you are drinking. All the while saving money by making them yourself.
Try making some breakfast smoothie recipes to satisfy your morning and your sweet tooth! Learn how to make your own low calorie smoothie recipes in order to lose or maintain your weight.
Let smoothie making become an exciting family activity! Kids love tossing in fruit and "driving" the blender. With your supervision of course! Your family time can even become educational by talking about the importance of a healthy diet. Depending on the age of your kids, you can talk about different health benefits of the fruits placed into the blender. One thing you can discuss is the differences of a smoothie or a juicer.
The best part comes when your can relax with your kids and enjoy a smoothie together. You can even get your kid's creative juices flowing by giving your smoothie recipe an off-the-wall name.

Give yourself a spring in your step by fueling your body with a nutrient dense fruit smoothie recipes. You won't even have to pay extra for those nasty chemicals. You can even go a step further and transform your skin with these natural anti aging tips!
The fruit smoothie recipes are listed by different types of fruits. Browse through the list. Print some out for your convenience. Then go blend up some yummy smoothie goodness and enjoy!
Fruit Smoothie Recipes
Acai Berry - Create acai berry smoothies and enjoy acai berry benefits!
Apples - An apple smoothie recipe is a tasty way to pack in that beneficial fiber into your diet. Remember... An apple a day, will keep the doctor away.
Avocados - Try blending an avocado smoothie recipe to gain the complete benefits of avocados and to absorb more nutrients from your food.
Bananas - Blend creamy banana smoothies with this highly used smoothie fruit. Check out some interesting banana nutrition facts.
Blackberries - Blackberry smoothie Recipes have a wonderful flavor of their own. Sweet and zesty at the same time.
Blueberries - Check out these blueberry smoothie recipes and see why blueberries are a favorite in my household. Not only do these little berries taste great, they are packed with blueberry nutrition.
Cherries - Cherry smoothie recipes can add a delightful twist to any day. You can even snack on the frozen cherries to cool down on a hot day.
Grapes - Use this sweet and juicy fruit to create naturally yummy grape smoothie recipes!
Lemons - Lemon smoothie recipes definitely need their own page. These smoothie recipes are zesty but with a sweet aftertaste. Simply delightful! Plus, you get the the benefits of detoxing with this special fruit.
Mangos - Try this tropical fruit to make a delicious mango smoothie recipe. Plus, check out these mango nutrition facts.
Melon - A melon smoothie is probably the most unique smoothie I've ever posted on Smoothie Handbook. Surprisingly... really yummy!
Oranges - Up your vitamin C by drinking an orange smoothie recipe. See that orange nutrition is more than just the vitamin C.
Peaches - Peach smoothie recipes are a tasty treat to mix up your smoothie routine.
Peanut Butter - Peanut butter smoothie recipes, like the PB & J, are a great way to add some fruit and healthy fat into your diet.
Pears - Find some delicious pear smoothie recipes and see how you can save money by using pears in your smoothies.
Pineapple - Refresh yourself with a healthy pina colada smoothie recipe. Find out how to pick the best pineapple and learn more about pineapple nutrition.
Pomegranate - Increase your antioxidant intake with pomegranate recipes and smoothies. You will receive great benefits from pomegranate nutrition.
Pumpkin - You don't have to enjoy pumpkin just one month of the year. Celebrate the holidays all year long with these pumpkin smoothie recipes!
Raspberries - Add some zest into your life with a raspberry smoothie. See the incredible benefits of raspberry nutrition.
Slushie - A fruit slushie can be a terrific way to cool off on a hot summer day without a bunch of extra calories.
Strawberries - A strawberry smoothie recipe is the most popular fruit smoothie known to man. Good thing too... Because you get tons of strawberry nutrition with very low calories.
Watermelon - Need a recipe for watermelon smoothie? Here you go... Enjoy!
Yogurt - Get the beneficial bacteria plus the benefits from fruit by savoring a fruit yogurt smoothie recipe. YUM! I also love blending up greek yogurt recipes. They are full of terrific protein!
Even More Smoothie Recipes...

Want to try more varieties? Here are some of your fruit smoothie recipes. Thanks for sharing!

Want 135 energizing smoothie recipes all bundled into a convenient handbook? Check out my ebook, Smoothie Handbook for Health.
The contents of this website are based upon the opinions of DaNae Johnson. The contents are not meant to diagnose, treat, cure or prevent any disease. This website is for sharing knowledge and information from the research and experience of DaNae and should not be used as medical advice. DaNae encourages you to make your own health and nutrition decisions based upon your research and discussion with your own qualified professionals.
© 2007 - 2022 DaNae Johnson, All Rights Reserved.
About me | Contact Me | Privacy Policy