How to Make a Smoothie
Why I Love Smoothies!
How to make a smoothie? is one of the biggest questions that I get, when people find out that I worked at a smoothie bar. After handing out reams of fruit smoothie recipes and teaching green smoothie health classes, I finally decided a website is needed to direct my friends and family to get more information on how to make a smoothie.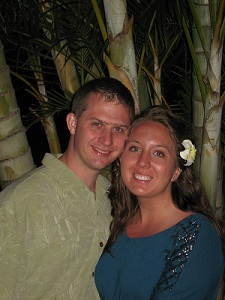 Hi! My name is DaNae Johnson. I live in the frozen tundra of Northern Minnesota. And yes, even during a blizzard, I love making healthy smoothie recipes! I have a wonderful husband and 3 children that I love very much. I am also a Christian and so my articles will reflect my views. I'm not trying to step on toes, but I can't keep silent about my faith in God.
I am focused on enhancing the health of anyone thirsting for knowledge by providing the necessary knowledge and tools.
I grew up in a typical American home with the cupboards fully stocked with Mac & Cheese and Lucky Charms. My mother did what she could to feed my brother and me a healthy diet. But we were offered all of the processed and stimulating foods.
How can a child choose fruits and veggies over the addictive processed foods that are heavily promoted in our society? My family constantly went out to eat drinking sugary sodas and eating the deep-fat fried french fries. It would've helped to know how to make a smoothie back then.

My Family's Turning Point
Eventually, that diet and environmental issues wore down my family's bodies. So much that we were diagnosed with Lung Cancer when I was seven years old. There we are...
My mother, my brother, and myself had lung cancer. My mom was the worst... she had only 5% chance to live for 2 years with chemo and radiation. And we had never smoked a single cigarette.
But through it all Mom stayed strong. She continued to homeschool my brother and me. But she never complained.
Due to previous health issues, she couldn't do any surgery. So she explored what alternative health could provide. That important turning point in our health was over 20 years ago. I am truly grateful. My mom got to be at my graduation, my wedding, and my 3 children's births.

How My Passion Grew
Now, When I was in high school, my mom and I would attend health classes. I knew what natural cures had done for my family. I truly believe that God has guided our family to where we are now. And He has given me a desire to share what I know. God has made food not only to fuel our bodies but also for us to enjoy.

I've done my studies and am now a Master Herbalist. I teach health classes around Northern Minnesota. I am not going to pretend that I know everything there is to know about health. I still learn new information. I am continually amazed at the variety of ways someone could improve their life with real food.
I have discovered that smoothies are one of those great ways. While showing people how to make a smoothie properly, I have noticed that healthy smoothie recipes can easily incorporate nutrition into our diet. You can use all the natural therapies on your body, but having a nutrient dense diet is the key to vibrant health.
I desire for others to absorb accurate information on how to take care of their bodies so that they can truly live to their potential. If we are constantly sick and tending to ourselves, how can we pour our lives into our family and friends? So please, join me on this journey to Radiant Living.
If you have any questions, comments, or recipes, I would love to hear from you! Contact Me!

Site Policies
Go from How to Make a Smoothie to Smoothie Recipes
Go from How to Make a Smoothie to Fruit Smoothie Recipes

Want 135 energizing smoothie recipes all bundled into a convenient handbook? Check out my ebook, Smoothie Handbook for Health.
The contents of this website are based upon the opinions of DaNae Johnson. The contents are not meant to diagnose, treat, cure or prevent any disease. This website is for sharing knowledge and information from the research and experience of DaNae and should not be used as medical advice. DaNae encourages you to make your own health and nutrition decisions based upon your research and discussion with your own qualified professionals.
© 2007 - 2022 DaNae Johnson, All Rights Reserved.
About me | Contact Me | Privacy Policy