Smoothie Recipes and Tips Blog
The Smoothie Recipes and Tips Blog shows you how to make a smoothie that will rev up your energy levels through the roof! It..
- Lets you know whenever any new web pages appear on Smoothie Handbook, telling you about a new found delicious smoothie recipe.
- Keeps you up-to-date with other postings or news about smoothies (like blender reviews and new smoothie recipes)
Tell YOUR silly smoothie story!
Show off YOUR healthy smoothie recipes!
Feb 06, 2016
Banana Chocolate Smoothie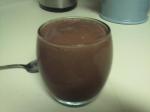 Banana Chocolate Smoothie 2 banana 2 cup of ice 2 tbsp of unsweetened cocoa powder for a little bit creamier I add a dash of 2% milk Blend all the
Want 135 energizing smoothie recipes all bundled into a convenient handbook? Check out my ebook, Smoothie Handbook for Health.
The contents of this website are based upon the opinions of DaNae Johnson. The contents are not meant to diagnose, treat, cure or prevent any disease. This website is for sharing knowledge and information from the research and experience of DaNae and should not be used as medical advice. DaNae encourages you to make your own health and nutrition decisions based upon your research and discussion with your own qualified professionals.
© 2007 - 2022 DaNae Johnson, All Rights Reserved.
About me | Contact Me | Privacy Policy