Easy Eggnog Smoothie Recipes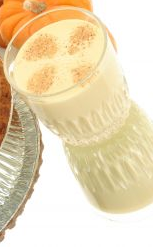 Holidays are here! Mix things up by blending up an eggnog smoothie. Okay... maybe you love eggnog... maybe you hate it. I had to include it on the Christmas Smoothie List. I also created a healthier vegan eggnog-less smoothie. I sure hope you enjoy these eggnog drinks just as much as I did!
Eggnog Delight Smoothie
1 1/2 cup eggnog
1 banana, frozen
1 cup ice (12 ice cubes or so)
Dash of cinnamon
Dash of nutmeg
1/2 tsp stevia powder(optional)
Blend all of the ingredients until smooth. Delicious!
Vegan Eggnog-less Smoothie
1/4 cup macadamia nuts, raw
1 cup chilled cinnamon tea
8 dates
1/2 tsp stevia powder
12 ice cubes
1/4 tsp ground cinnamon
1/4 tsp ground nutmeg - add more if needed
Blend the first three ingredients until smooth. Then add the rest of the ingredients and blend again.
Go from Eggnog Drinks to Fruit Smoothie Recipes
Go from Eggnog Smoothie to Smoothie Recipes