Weight Watchers Smoothie
Green Smoothies
Green smoothies are perfect for anyone looking for a healthy weight watchers smoothie. They are extremely low in calories and fat; high in fiber; and loaded with phytonutrients!
Under each smoothie recipe, I have added up the calories, fat, and fiber content. For your convenience, I labeled each of the weight watcher smoothies with how many points they contain.
While doing this process… I was truly impressed on the numbers. Check them out and see for yourself. Smoothies are a great meal replacement for anyone on weight watchers or other weight loss program.
I hope this is a great help to you in your journey of becoming healthier! Please feel free to submit your own smoothie recipes.
Interested in other types of weight watcher friendly smoothies?
Try out these:
Weight Watchers Smoothie – Fruit Smoothie Recipes
Weight Watchers Smoothie – Dessert Smoothie Recipes
Green Smoothie Recipes
Berry Greens
1 large banana, ripe
1 cup blueberries, frozen
1/2 cup strawberries, frozen
5 oz spinach, fresh
1 1/2 cups pure water
Pour water in first. Then place the banana closest to the blade with the rest of the ingredients on top. Blend until smooth. Serves 1
259 Calories - 1.7g Fat – 11.6g Fiber - 5 Weight Watcher Points
Cherry Lettuce Smoothie
1 small head of lettuce, chopped into a couple sections
3/4 cup blueberries, frozen
1/2 cup mango, frozen
1/2 cup cherries, frozen
1 1/2 cup water
Pour the water into the blender with the lettuce. Blend. Then add frozen fruit and blend until completely smooth. Serves 1
176 Calories - 0.9g Fat – 7.3g Fiber - 3 Weight Watcher Points
Hot Pink Green Smoothie
3 cups of cabbage, green
1 1/2 bananas, frozen
1 cup strawberries, frozen
1/2 cup raspberries, frozen
1 1/2 teaspoon stevia
2 ice cubes
1 1/2 cups water
Blend the water and the cabbage first. Then add the rest of the ingredients and blend until smooth. Serves 1
288 Calories – 1.6g Fat – 16.7g Fiber - 5 Weight Watcher Points
Can't wait to try more nutrient dense green smoothies?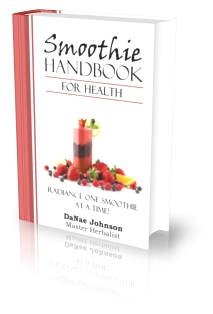 I understand that you have better things to do with your time than count calories, sugars, and protein every time you blend up a smoothie.
So...in my new book, "Smoothie Handbook for Health", I've done all the up-front work for you. I've calculated the calories, fat content, sodium, carbohydrates, fiber, sugar, and protein, as well as the percentages of Vitamin A and C, calcium, and iron.
Then I went the extra mile and also added up the Weight Watcher points (including the new PointsPlus system)!
Click here for more information.
Return to Weight Loss Smoothies
Want 135 energizing smoothie recipes all bundled into a convenient handbook? Check out my ebook, Smoothie Handbook for Health.
The contents of this website are based upon the opinions of DaNae Johnson. The contents are not meant to diagnose, treat, cure or prevent any disease. This website is for sharing knowledge and information from the research and experience of DaNae and should not be used as medical advice. DaNae encourages you to make your own health and nutrition decisions based upon your research and discussion with your own qualified professionals.
© 2007 - 2022 DaNae Johnson, All Rights Reserved.
About me | Contact Me | Privacy Policy